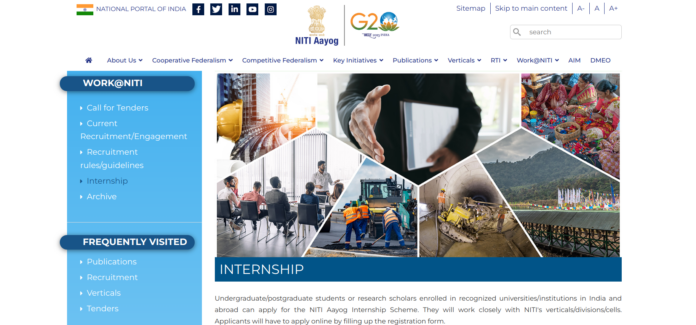 The National Institution for Transforming India (NITI) Aayog is the premier policy think tank of the Indian government. It offers incredible opportunities for young, aspiring individuals to learn and contribute to India's policy landscape.
Internships at NITI Aayog can be a career-defining experience, it will give you the opportunity to acquire deep knowledge of the workings of the government and policymaking.
In this article, we will guide you on how to navigate the process and apply for internships on niti.gov.in, as well as delve into the benefits and challenges of these opportunities.
Navigating NITI Aayog Internships on Niti.gov.in
The NITI Aayog offers various internships throughout the year, announced on their official website, niti.gov.in. Internship applications typically involve submitting an application form, along with other required documents.
When you get to the internship page on the NITI website (https://www.niti.gov.in/internship), click on the "Apply here" link and you will be taken to the application portal where you can apply or check the status of your application.
The process is competitive, and successful applicants are those who demonstrate exceptional academic performance, a keen interest in public policy, and the ability to undertake research tasks.
Benefits of NITI Aayog Internships
Interning at NITI Aayog offers a range of benefits like the opportunity to work closely with policymakers, and contribute to significant policy decisions.
The internship provides an opportunity to gain practical experience in the field of policy-making and governance. Interns also develop a wide range of skills, including research, policy analysis, project management, and communication, which can be beneficial in their future careers.
Challenges and Overcoming Them
While a NITI Aayog internship can be a highly rewarding experience, it can also be challenging. The fast-paced environment requires interns to be quick learners and to work under tight deadlines.
Moreover, understanding the complexities of public policy and governance can be daunting. However, the supportive work culture and mentorship by experienced professionals can help interns overcome these challenges.
Preparing for a NITI Aayog Internship
Preparation is vital to securing and excelling in a NITI Aayog internship. Familiarizing oneself with India's current policy issues, improving research skills, and developing a basic understanding of government operations can be beneficial. It may also be useful to connect with previous interns to gain insights and tips on how to make the most of the internship.
The Role of NITI Aayog Internships in India's Public Policy Landscape
NITI Aayog internships play a crucial role in India's public policy landscape. They provide a platform for the country's youth to contribute to policy-making, facilitating a two-way exchange of ideas between the government and the younger generation.
Furthermore, they help build a pipeline of skilled professionals who can potentially contribute to the government in the future.
Conclusion
NITI Aayog internships offer an unparalleled opportunity for young individuals who would love to contribute and learn from India's policy-making process. While the journey may be challenging, the experience and skills gained can be instrumental in shaping a rewarding career.
If you're driven by the desire to make a difference and have a keen interest in public policy, an internship at NITI Aayog could be just the opportunity you're looking for.
---
---